HSB-1216: Novel Inducer of Iron-Mediated Cell Death
Iron is a central player in cancer progression and metastasis and dysregulated in tumors. Certain cancer cells rely on an increased labile iron pool (LIP) which fosters tumor growth, metastasis and relapse. HSB-1216 (Hillstream's lead compound) normalizes the LIP in tumors and causes cell death by de-linking cancer's addiction to iron. HSB-1216, is a novel and potent inducer of a powerful mechanism involving iron-mediated cell death.  This process which sequesters iron in lysosomes allows HSB-1216 to cause lysosomal membrane permeabilization of hard-to-treat cancer cells – causing them to rupture and stop replicating.  An area of interest for the development of HSB-1216 are rare cancers with high unmet need.
HSB-1216 is for multiple, therapy resistant or high unmet need solid tumors. HSB-1216 exploits a key feature of certain tumors that rely on an excessive LIP within the cell to modify the dysregulated iron microenvironment of cancer. In our Phase 1 study we intend to test HSB-1216 in a variety of solid tumors. Although we have received orphan drug designation (ODD) in small cell lung cancer for HSB-1216's active drug, we may pursue ODD in multiple indications. HSB-1216 has the potential to be used in cancer patients who have failed standard-of-care therapies in solid tumors. HSB-1216 is being advanced to alleviate these devastating consequences due to a lack of therapies.
HSB-3215: Anti-HER2 Antibody
The ErbB family of cell surface proteins are some of the most well-known and validated oncology drug targets including ErbB2 or HER2 (human epidermal growth factor receptor) and Erb3 or HER3. The family of antibodies and biologics against HER2 starting with HERCEPTIN® (trastuzumab) approved in 1998 for breast cancer, one of the first few anti-cancer antibodies, as well as PERJETA®, KADCYLA® and PHESGO® totaled $8.4 billion in 2022 sales for Roche/Genentech. Antibodies against HER2 and HER3 bind to different domains of the extracellular portion of the proteins or epitopes with trastuzumab binding domain IV of HER2 primarily. HER2 is also one of the most utilized targeting antigens for antibody drug conjugates to treat HER2 positive cancers with two approved antibodies, Roche/Genentech's PERJETA® and Daiichi Sankyo/AstraZeneca's ENHERTU®.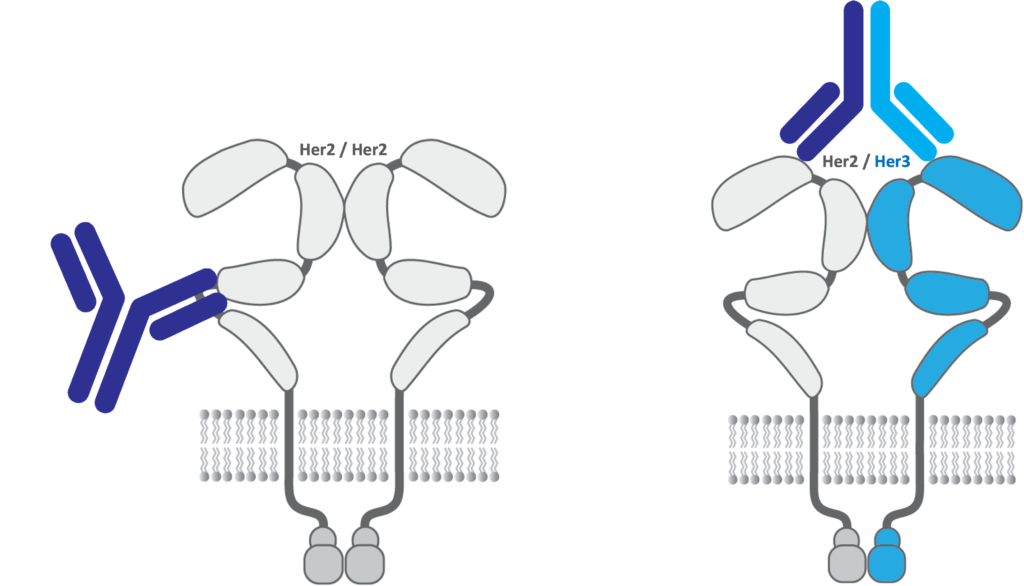 The Applied Biomedical Science Institute has developed technology to target unique functional epitopes of the cancer targets HER2 and HER3.   Monoclonal antibodies being developed at ABSI are unique from the currently approved anti-HER2 antibodies. ABSI has granted under an exclusive option agreement to Hillstream, certain of its proprietary technology which if converted to an exclusive license agreement, will allow Hillstream to develop HER2 and HER3 antibodies, including multi-specific and Quatramer- based therapeutics incorporating portions of the antibodies.
HSB-1940: Anti-PD-1 (Undruggable Epitopes)

Picobodies are antibody "knob" domains comprised of cysteine-rich ultralong complementary determining region (CDR) H3 sequences of 30-40 amino acids, which have the potential to access challenging epitopes better than full size antibodies can. By combining Quatramers with their long half-life coated with a PD-1 Picobody™ to create HSB-1940, we intend to efficiently target novel epitopes with greater binding affinity than approved biologics.

Antibodies derived from mouse or human sources use the surface formed by complementarity determining regions (CDRs) on the variable regions of the heavy chain/light chain heterodimer, which typically forms a relatively flat binding surface. Alternative species, particularly camelids and bovines, provide a paradigm for antigen recognition through novel domains which form the antigen binding site. However, for camelids, heavy chain antibodies bind antigen with only a single heavy chain variable region, in the absence of light chains. Meanwhile, in bovines, ultralong CDR-H3 regions form an independently folding mini-domain, which protrudes far out from the surface of the antibody and forms a "stalk and knob" structure which is diverse in both its sequence and disulfide patterns. The "knob" (Picobody) component can be expressed as an independent antigen binding domain. At ~4-6 kDa, these are three times smaller than a camelid "nanobody", and are the smallest known antibody fragment. These atypical antigen binding sites of bovines potentially provide the ability to interact with different antigenic determinants, particularly recessed or concave surfaces, compared to traditional antibodies.